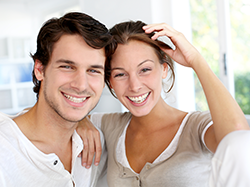 Carefully screened candidates with reasonable expectations and a clear understanding of the risks and alternatives are likely to be happy with the results of their refractive procedure.
The eye and vision errors
The cornea is a part of the eye that helps focus light to create an image on the retina. It works in much the same way that the lens of a camera focuses light to create an image on film. The bending and focusing of light is also known as refraction. Usually the shape of the cornea and the eye are not perfect and the image on the retina is out-of-focus (blurred) or distorted. These imperfections in the focusing power of the eye are called refractive errors. There are three primary types of refractive errors: myopia, hyperopia and astigmatism. Persons with myopia, or nearsightedness, have more difficulty seeing distant objects as clearly as near objects. Persons with hyperopia, or farsightedness, have more difficulty seeing near objects as clearly as distant objects. Astigmatism is a distortion of the image on the retina caused by irregularities in the cornea or lens of the eye. Combinations of myopia and astigmatism or hyperopia and astigmatism are common. Glasses or contact lenses are designed to compensate for the eye's imperfections. Surgical procedures aimed at improving the focusing power of the eye are called refractive surgery.
LASIK: LASIK stands for Laser-Assisted In Situ Keratomileusis. In LASIK surgery, precise and controlled removal of corneal tissue by a special laser reshapes the cornea changing its focusing power.
A flap is created with a hinge on one side. A microkeratome is used to cut the flap. Intralase is a technique where laser is used to create the flap. The flap is folded back. Laser pulses are used to vaporize a portion of the cornea. The flap is replaced.
PRK
PRK was the first surgical procedure developed to reshape the cornea, by sculpting, using a laser. Later, LASIK was developed. The same type of laser is used for LASIK and PRK. Often the exact same laser is used for the two types of surgery. The major difference between the two surgeries is the way that the stroma, the middle layer of the cornea, is exposed before it is vaporized with the laser. In PRK, the top layer of the cornea, called the epithelium, is scraped away to expose the stromal layer underneath. In LASIK, a flap is cut in the stromal layer and the flap is folded back.
How does wavefront LASIK (custom) compare to conventional LASIK?
Wavefront adds an automatic measurement of more subtle distortions (called higher order aberrations) than just nearsightedness, farsightedness, and astigmatism corrected by conventional LASIK. However, these "higher order aberrations" account for only a small amount (probably no more than 10%) of the total refractive error of the average person's eye. Wavefront-guided treatments (Custom LASIK) attempt to eliminate higher order aberrations, more than conventional LASIK. Wavefront LASIK achieved 20/20 vision without glasses or contact lenses more frequently compared to subjects treated with conventional LASIK.
Bilateral Simultaneous Treatment LASIK surgery on both eyes at the same time or to have surgery on one eye at a time is convenient, safe and is common practice.
You are probably NOT a good candidate for refractive surgery if:
You do not want to take a risk at all. Certain complications are unavoidable in a small percentage of patients.
It will jeopardize your career. Some jobs prohibit certain refractive procedures. Be sure to check with your employer/professional society/military service before undergoing any procedure.
Cost is an issue. Most medical insurance will not pay for refractive surgery.
You required a change in your contact lens or glasses prescription in the past year. This is called refractive instability. Patients who are:

In their early 20s or younger
Whose hormones are fluctuating due to disease such as diabetes,
Who are pregnant or breastfeeding, or
Who are taking medications that may cause fluctuations in vision,

You have a disease or are on medications that may affect wound healing. Certain conditions, such as autoimmune diseases (e.g., lupus, rheumatoid arthritis), immunodeficiency states (e.g., HIV) and diabetes, and some medications (e.g., retinoic acid and steroids) may prevent proper healing after a refractive procedure.
You actively participate in contact sports. You participate in boxing, wrestling, martial arts or other activities in which blows to the face and eyes are a normal occurrence.
You are not an adult. Currently, no lasers are approved for LASIK on persons under the age of 18.
Monovision
Monovision is one clinical technique used to deal with the correction of presbyopia, the gradual loss of the ability of the eye to change focus for close-up tasks that progresses with age. The intent of monovision is for the presbyopic patient to use one eye for distance viewing and one eye for near viewing. This practice was first applied to fit contact lens wearers and more recently to LASIK and other refractive surgeries. With contact lenses, a presbyopic patient has one eye fit with a contact lens to correct distance vision, and the other eye fit with a contact lens to correct near vision. In the same way, with LASIK, a presbyopic patient has one eye operated on to correct the distance vision, and the other operated on to correct the near vision. In other words, the goal of the surgery is for one eye to have vision worse than 20/20, the commonly referred to goal for LASIK surgical correction of distance vision. Since one eye is corrected for distance viewing and the other eye is corrected for near viewing, the two eyes no longer work together. This results in poorer quality vision and a decrease in depth perception. These effects of monovision are most noticeable in low lighting conditions and when performing tasks requiring very sharp vision. Therefore, you may need to wear glasses or contact lenses to fully correct both eyes for distance or near when performing visually demanding tasks, such as driving at night, operating dangerous equipment, or performing occupational tasks requiring very sharp close vision (e.g., reading small print for long periods of time).
If you are considering monovision with LASIK, make sure you go through a trial period with contact lenses to see if you can tolerate monovision. Remember your presbyopia is expected to increase in the future.
Even the best screened patients under the care of most skilled surgeons can experience serious complications.
During surgery. Malfunction of a device or other error, such as cutting a flap of cornea through and through instead of making a hinge during LASIK surgery, may lead to discontinuation of the procedure or irreversible damage to the eye.
After surgery. Some complications, such as migration of the flap, inflammation or infection, may require another procedure and/or intensive treatment with drops. Even with aggressive therapy, such complications may lead to temporary loss of vision or even irreversible blindness.
Laser Vision Correction Surgery Checklist
Know what makes you a poor candidate
Career impact – does your job prohibit refractive surgery?
Cost – can you really afford this procedure?
Medical conditions – e.g., do you have an autoimmune disease or other major illness? Do you have a chronic illness that might slow or alter healing?
Eye conditions – do you have or have you ever had any problems with your eyes other than needing glasses or contacts?
Medications – do you take steroids or other drugs that might prevent healing?
Stable refraction – has your prescription changed in the last year?
High or Low refractive error – do you use glasses/contacts only some of the time? Do you need an unusually strong prescription?
Pupil size – are your pupils extra large in dim conditions?
Corneal thickness – do you have thin corneas?
Tear production – do you have dry eyes?

Know all the risks and procedure limitations
Overtreatment or undertreatment – are you willing and able to have more than one surgery to get the desired result?
May still need reading glasses – do you have presbyopia?
Results may not be lasting – do you think this is the last correction you will ever need? Do you realize that long-term results are not known?
Dry eyes – do you know that if you have dry eyes they could become worse, or if you don't have dry eyes before you could develop chronic dry eyes as a result of surgery?
Development of visual symptoms – do you know about glare, halos, starbursts, etc. and that night driving might be difficult?
Contrast sensitivity – do you know your vision could be significantly reduced in dim light conditions?
Patient information – have you read the patient information booklet about the laser being used for your procedure?
May permanently lose vision – do you know some patients may lose some vision or experience blindness?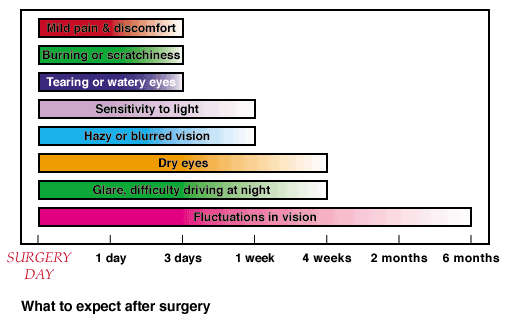 Know preoperative, operative, and postoperative expectations
No contact lenses prior to evaluation and surgery – can you go for period of time without wearing contact lenses?
Have a thorough exam – have you arranged not to drive or work after the exam?
Read and understand the informed consent – has your doctor answered all your questions?
No makeup before surgery – can you go 24-36 hours without makeup prior to surgery?
Arrange for transportation – can someone drive you home after surgery?
Plan to take a few days to recover – can you take time off to take it easy for a couple of days if necessary?
Expect not to see clearly for a few days – do you know you will not see clearly immediately?
Know sights, smells, sounds of surgery – has your doctor made you feel comfortable with the actual steps of the procedure?
Be prepared to take drops/medications- are you willing and able to put drops in your eyes at regular intervals?
Be prepared to wear an eye shield – do you know you need to protect the eye for a period of time after surgery to avoid injury?
Expect some pain/discomfort – do you know how much pain to expect?
Know when to seek help – do you understand what problems could occur and when to seek medical intervention?
Know when to expect your vision to stop changing – are you aware that final results could take months?
Make sure your refraction is stable before any further surgery – if you don't get the desired result, do you know not to have an enhancement until the prescription stops changing?
All information taken from the US Food & Drug Administration.