OCT Spectralis – Glaucoma diagnostic equipment:
Optical Coherence Tomography (OCT) is a non-contact medical imaging technology similar to ultrasound and MRI. With OCT, reflected light is used to produce detailed cross-sectional and 3D images of the eye.
Humphrey Visual Field:
This test measures side (peripheral) vision. It helps determine if there is loss of side vision – a sign of glaucoma.
Specular Microscope: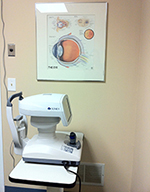 The Specular Microscope provides corneal endothelium imaging by using the specular optical principle with a visible light source, lenses and a CCD camera. In addition, a built-in clinical application delineates the endothelial cells automatically and displays statistical data such as cell numbers, average area and cell density on the color LCD.
IOL Master: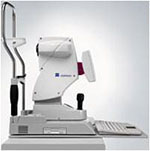 This is the most sophisticated and accurate way to determine the power of the intraocular lens (IOL) implant for cataract surgery. The IOL Master allows fast, accurate measurements of eye length and surface curvature, necessary for cataract surgery. The IOL Master is efficient as it allows measurements to be taken with confidence in the accuracy of results. Furthermore, it is a non-contact (nothing touches the eye and no drops are needed) and non-invasive.
Ocular Response Analyzer: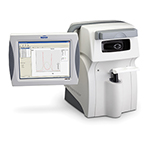 The Ocular Response Analyzer (ORA) is the only instrument in the world capable of measuring Corneal Hysteresis (CH); an indication of the biomechanical properties of the cornea. The CH measurement provides independent information that aids in the diagnosis and management of glaucoma.
Immersion A-scan, B-scan Ultrasonography: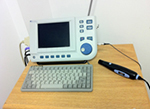 The A-scan provides data on the length of the eye, which is a major determinant in common sight disorders. B-scan, is a diagnostic test to produce a two-dimensional, cross-sectional view of the eye and the orbit.
Fundus Camera (DRS)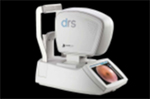 Digital Retinography System (DRS) is a fully-automatic fundus camera and non-dilating. Its compact, ergonomic design and low power flash help ensure patient comfort. DRS senses the patient, self-aligns to the target eye, focuses the retina, adjusts the flash level and captures the image in less than 30 seconds.
Tear Lab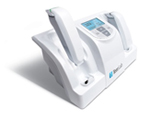 TearLab is the single most accurate and objective test for diagnosing Dry Eye Disease. TearLab generates an Osmolarity number, which provides significant information to your Doctor.
With its objective, quantitative endpoint TearLab Osmolarity correlates to increasing disease severity, and enables your Doctor to monitor your response to treatment. The test is fast, easy, and accurate – requiring only 50-nanoliters of tear for analysis – a sample smaller than the period at the end of this sentence. It is also more patient friendly than older generation tests, as it is not intrusive, and requires no anesthesia.
Tango SLT/YAG Laser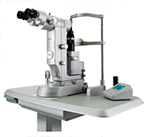 Combining a full-featured SLT (selective laser trabeculoplasty) laser and a precise, powerful YAG laser for performing iridotomy, the Ellex Tango™ helps the doctor better manage both Primary Open Angle Glaucoma and Primary Angle-Closure Glaucoma. In SLT mode, it stimulates the generation of healthy trabecular meshwork cells and helps manage the elevated intraocular pressure associated with glaucoma. In YAG mode, the Tango™ provides optimized, ultra-low optical energy breakdown, reducing the level of energy – and the resultant shockwave – required to perform iridotomy and capsulotomy treatments. This improved energy efficiency also allows the doctor to perform capsulotomies with all types of intraocular lenses (IOLs) at a significantly reduced risk of lens pitting.
Diopsys® NOVA Vision Testing System
The Diopsys® NOVA Vision Testing System provides your doctor with painless, non-invasive vision tests that utilize electrophysiological technology, including Visual Evoked Potential (VEP) and pattern Electroretinography (ERG). The VEP technology in the Diopsys® NOVA device helps determine how your eyes communicate with your brain in a way that no other instrument or vision test can. ERG results have been demonstrated to aid in the diagnosis and treatment planning of many vision disorders. Your doctor may test you for vision and optic nerve disorders such as glaucoma, multiple sclerosis (MS), and amblyopia. Patients may also be tested to detect neuro-visual problems caused by traumatic brain injury (TBI) or stroke.